StockGraphy has been developing technology specializing in high-precision 3D digitization of shaped objects in order to digitally preserve historically and culturally important arts, crafts and cultural properties at higher precision.

Arts and cultural properties deteriorate over years.
They may deteriorate in the process of restoration.

Digi:reBUILD preserves the current appearance of cultural assets and hand them down to the future as high-precision online 3D data that anyone in the world can experience.

Digi:reBUILD is an initiative that transmits culture and history to the future.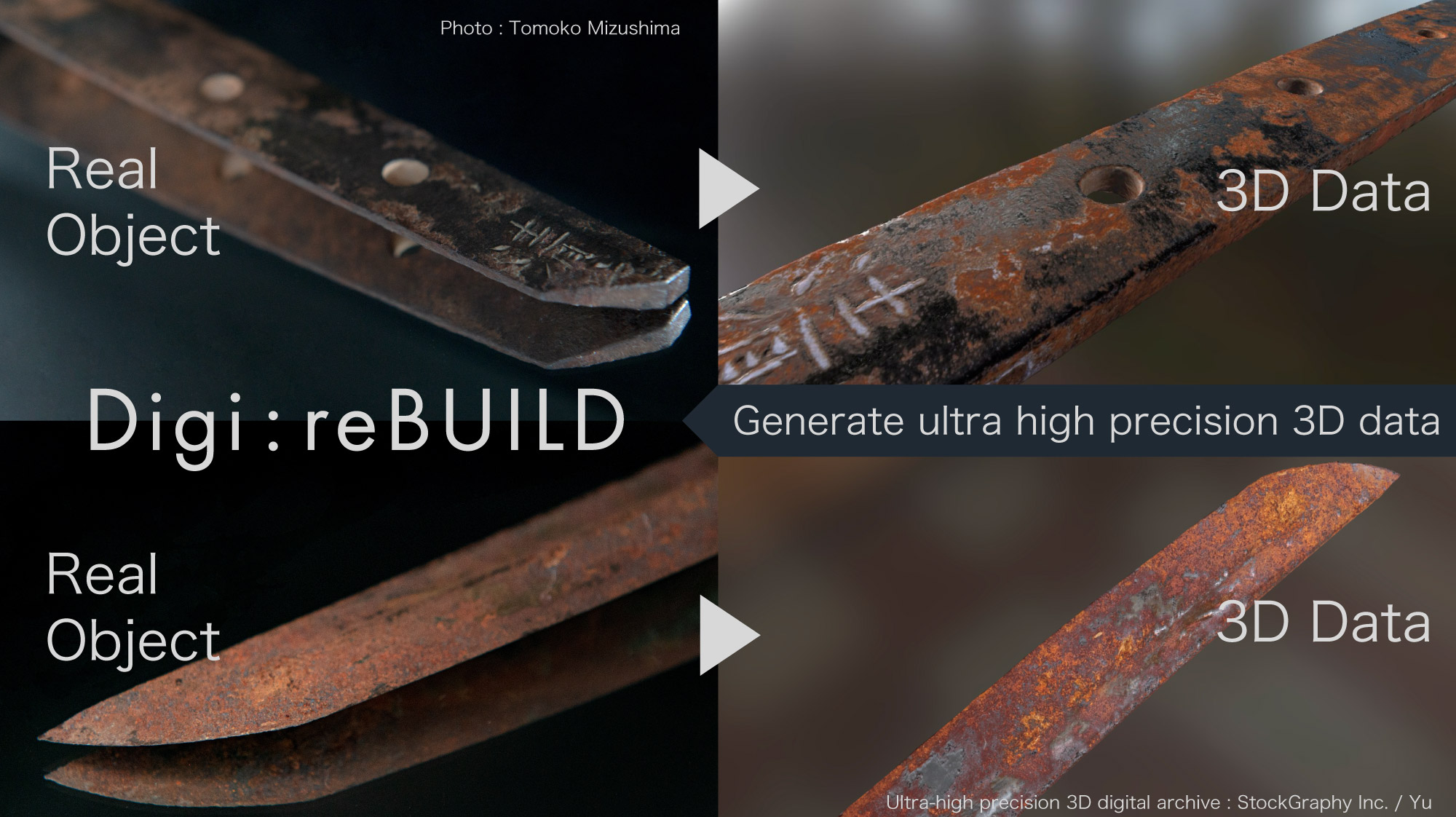 Reconstruction to connect culture and history to the future. [reBUILD]

- Reconstruction of cultural assets -
StockGraphy reconstructs culturally valuable objects as immortal 3D digital data.

- Reconstruction of 3D digitization technology -
We have developed a technical flow that reconstructs the existing 3D digitized data and reproduces its detailed surface information as further refined 3D data.
It is an original technique, materialized by carefully repeating reconstruction between three-dimensionalization and two-dimensionalization (flattening) for realizing higher definition.



High-definition 3D digitization technology

We have developed an original method for generating extremely high-definition 3D data with the goal of the digitization of arts, craft and cultural assets.
In our technology, even fine irregularities or texture of target objects can be converted into data, and will be presented to you in more graspable condition than in the real objects.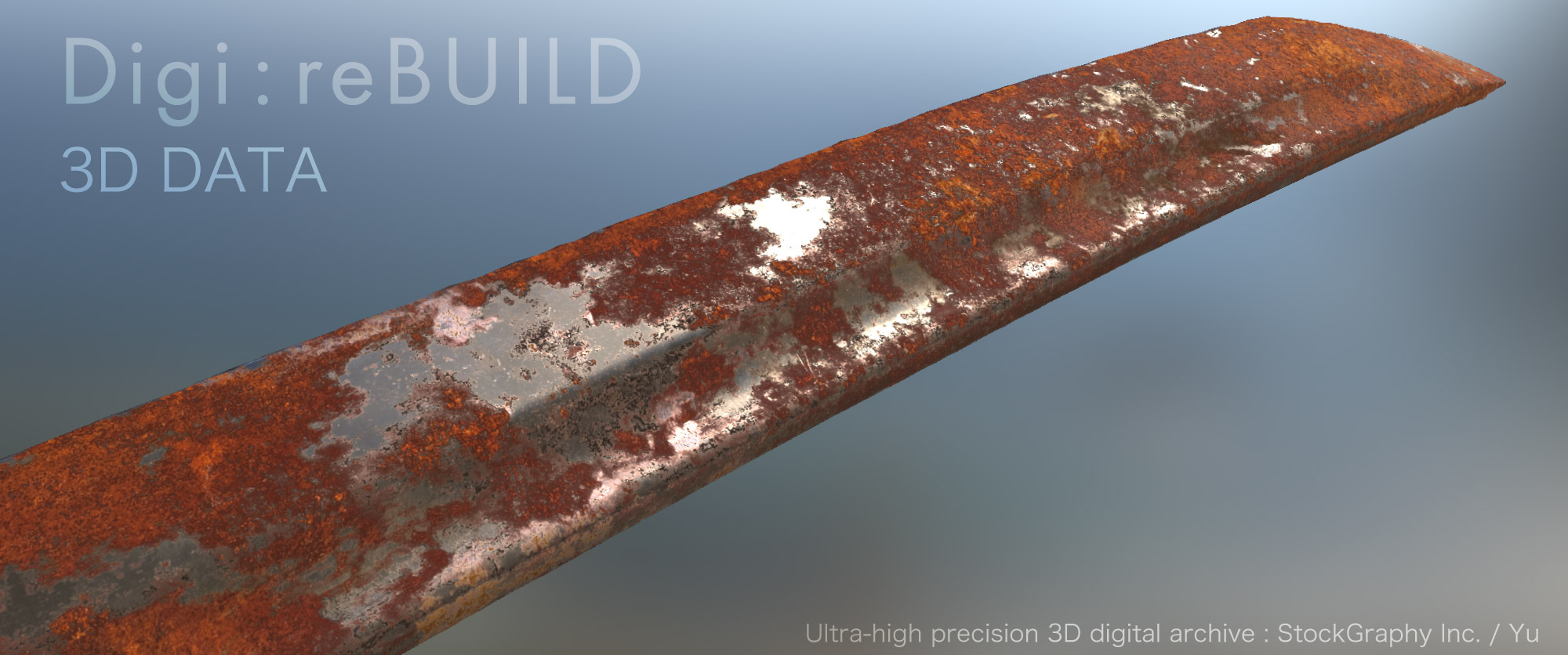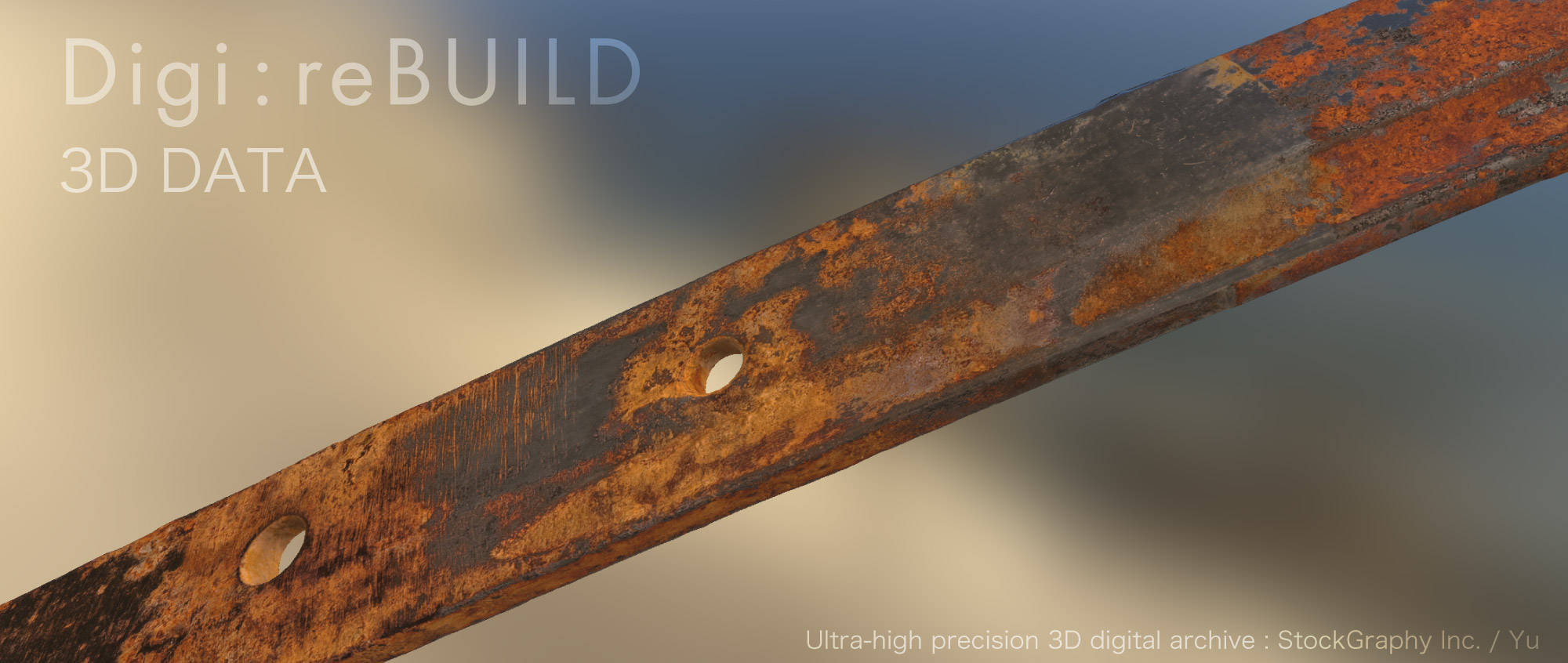 3D data conversion x Online experience

Digi:reBUILD allows you to view 3D digitized works through your smartphone, PC or Mac.
On the screen, you can move the work as if you had the real thing at hand, or you can zoom it up and check the details.
You can experience all by just a click of the web link with no apps.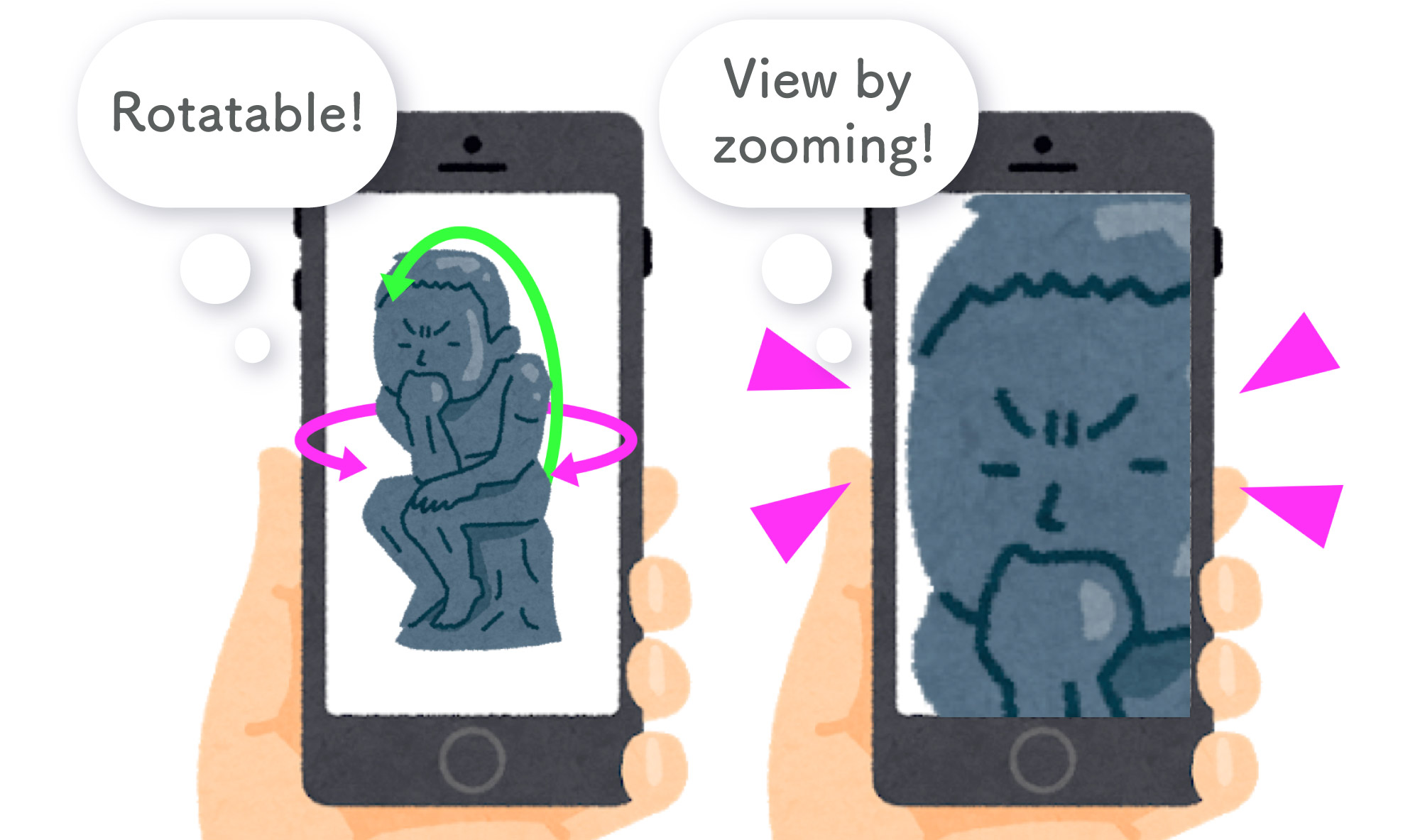 A little application of online experience
AR - Augmented Reality -

3D data appears in the actual space through the screen of the smartphone. 
AR can also be experienced by clicking the web link.
Also, AR can make the objects appear life-size.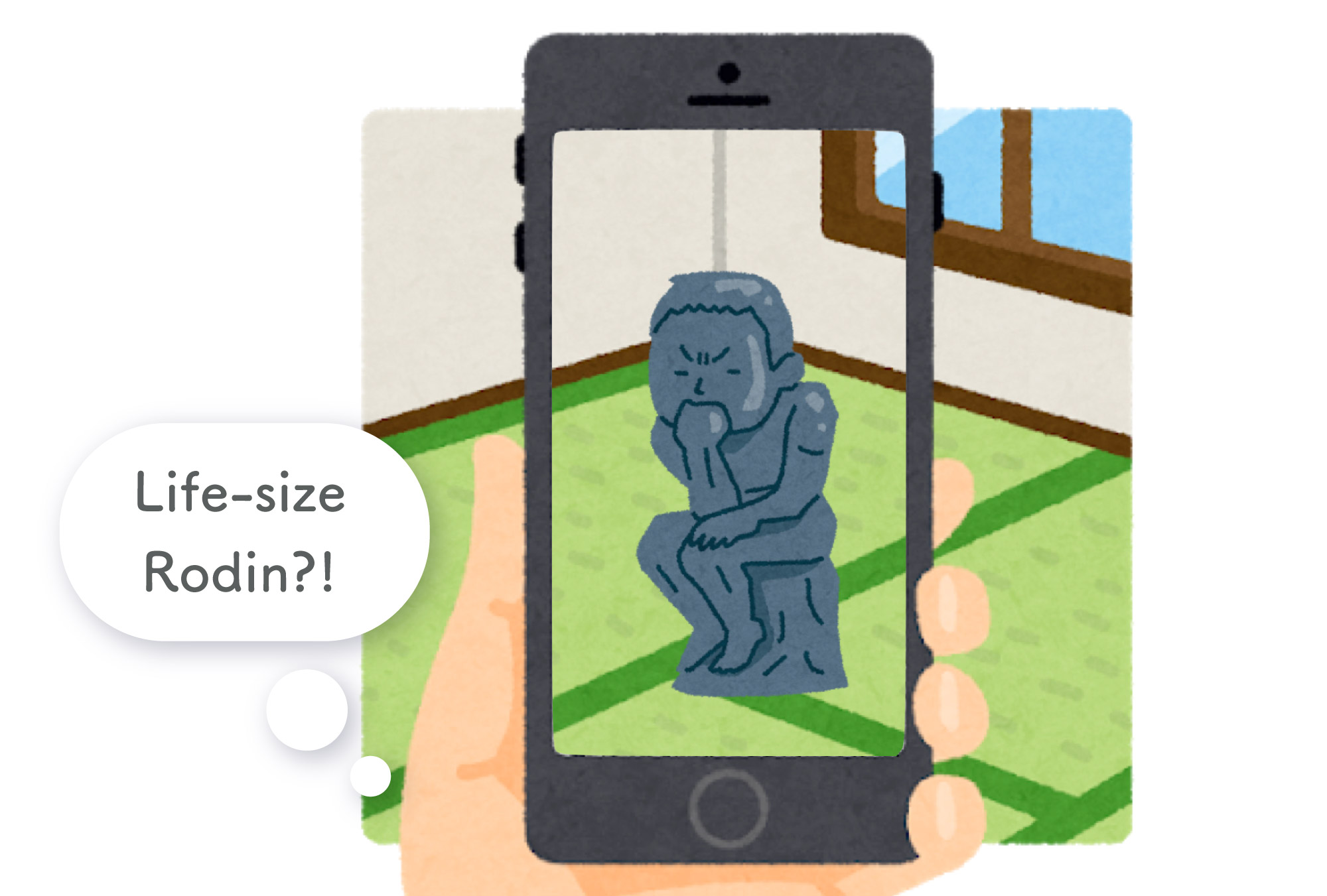 What you can do with 3D data, not just "online experience"


- Better grasp of one element by deleting others -

For example, by deleting color element as shown in the image below, you can get a better grasp of unevenness or gloss of the object, which is difficult to catch when shown with color.
This is one of the benefits of 3D digitization.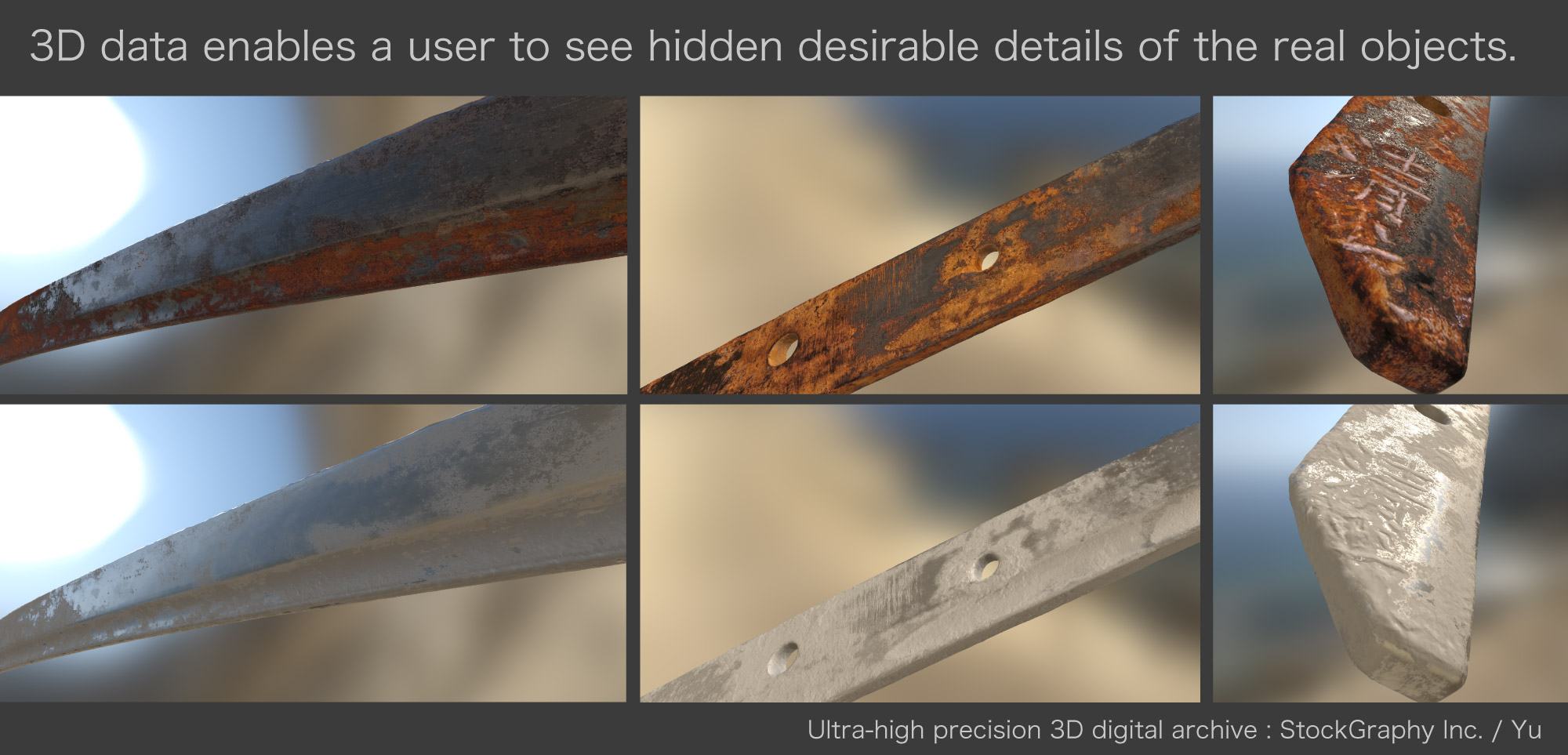 It is also possible to delete other elements in the same way.
For grasping the features of other elements better,
# delete fine irregularities
# delete glaze
# delete metallic texture 



About inquiries and consultation on 3D digitization: Digi:reBUILD

Digi:reBUILD performs more work processes and texture surveys than in ordinary 3D digitization techniques.
Therefore, it will take at least two weeks from starting the first shooting work to starting content development.
Regarding the estimate, we will investigate the object, calculate the corresponding resources, and submit it each time.

In the case of the sword in the reference example, the development work takes about 15 business days, and the cost with the following delivery data structure is about JPY400,000.


# High-polygon 3D data:
(Reference data at the stage of high-precision 3D scanning. Redefinition work of detailed parts has not been processed.)

# Completed Digi:reBUILD 3D data:
(Arrangement of polygon number target in advance, and delivery of multiple file formats are supported)
Note:
* If it is useful to embed the basic AR embedding code or general-purpose online 3D viewer, we will cooperate within the price range.
A separate development fee will be charged for system development using AR and our Online3D Engine that incorporates custom-made interactions.
* Online 3D data and texture data submission file formats will be flexibly supported as long as no additional development work is required.
* The development work period is the estimated period for actual work. When scheduling the entire project, it is necessary to consider the consultation period and the time required to consider the object and shooting location.
You may wonder if Digi:reBUILD can be used for the high definition of your products, or how it can be used for your business, and so on.
If there are any unclear points, please feel free to visit our web site and consult us.
We will suggest the best possible solution to your inquires, including suggesting other techniques, or introducing other vendors.
URL :
https://www.stockgraphy.com/#contact



* "Digi:reBUILD" is a registered trademark (No. 6454271) of StockGraphy, Inc.
* Owner of Japanese Sword: Makoto Kaneko (Private collection)
* Photo:Tomoko Mizushima